Perfect as a DIY Christmas gift, this cleansing snowball is a syndet bar that gently cleanses your skin under the shower leaving it soft and velvety thanks to rice starch. Once you wet the ball, you will get a soft, light lather that becomes increasingly consistent as you rub your hands together.
It is cold-prepared and contains 4 ingredients only: a surfactant, glycerin, starch and fragrance.

As the surfactant, I used "Pate a Mousse" (disodium lauryl sulfosuccinate), a Ecocert approved mild surfactant that can be easily used in creative recipes and comes in the form of a white mousse. It creates a creamy, pleasant and rich lather that you'll love.
You can buy it on Aroma Zone (it ships worldwide). Other providers sell a different version of disodium lauryl sulfosuccinate – please check the notes at the bottom of this page for more info.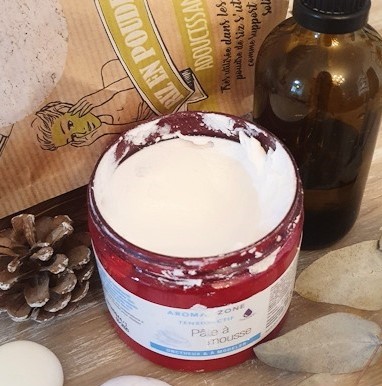 Rice starch is mildly washing and is also used pure in children's bath water to soothe irritation. It leaves a silky and particularly pleasant feeling on the skin.

Glycerin is moisturizing and in this case is essential to form a soft moldable paste suitable to shape snowballs or anything else, helping ourselves with a stencil or simply using our fingers.
Instead that making a big snowball that could spoil if left under the water or if not stored in a dry place, I suggest you to make many small balls of about 10 g to be stored in a dry place and taken with you in the shower just before use.

The natural fragrance I have chosen, Doceur Lactée, will awake your senses with its delicious scent of meringue and sweetened milk. I really love it and you can find it in other recipes, like my sugar scrub bar.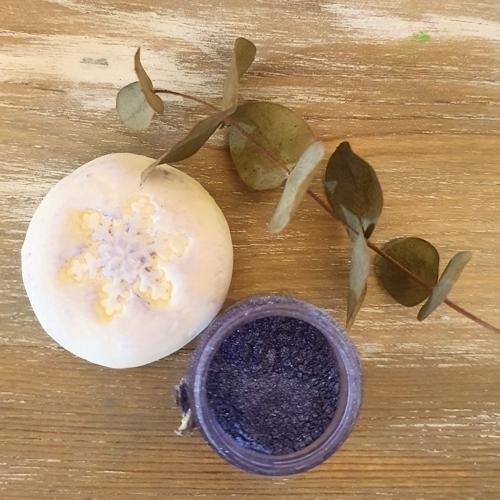 Ingredients
How to make the snowball syndet bars
Mix pate a mousse, glycerin, rice starch and fragrance until you get moldable paste. If it turns out too dry, add a few drops of glycerin. If you notice, however, that the dough is too wet or sticky, add a little starch.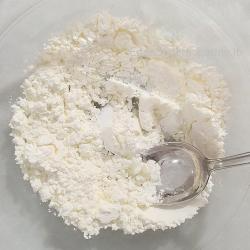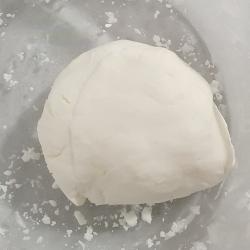 Form several 10-15 g balls and use a snowflake sugar paste cutter to decorate. Then, dust some colored mica with a brush. Let it dry overnight before use and store away from moisture.


Notes and substitutions for the syndet bar formula
As mentioned before, Pate a Mousse can be bought on Aroma Zone, that ships worldwide. Disodium lauryl sulfosuccinate is not easily available elsewhere. You can find it in powdered form, but please note that is not exactly the same as Pate a Mousse, that is a mousse. If you want to use the powdered version, you should reformulate everything and follow the recommended dosage of the related sell sheet. This recipe has been made for the mousse version and I never tried the powdered one, so I cannot tell you exactly how to replace it or if it's suitable for such a recipe.


Rice starch can be substituted for cornstarch.


Doceur Lactée fragrance can be substituted with essential oils or another fragrance, but please check the maximum recommended dosage on the product sheet.


If you want to obtain a more moldable dough, add a little bit of oil.


You can color the dough directly by adding small amounts of colored mica or floral and plant powders, such as hibiscus powder, matcha green tea powder, or rose powder.