Naturally flavored DIY lip balms can be addictive with their mouth watering scent that makes you want to eat them. They remind me of the ones I had when I was a child and that I used to smell and put on all the time, finishing them within a few days.

This DIY lip balm is undoubtedly much more effective and healthy than the paraffin-based ones on the market because it contains only natural and clean ingredients: cocoa butter, beeswax, coconut oil, castor oil, tocopherol and cherry natural flavoring.
It has a pleasant texture, a delicious scent and nourishes the lips making them soft.
You can color it with a pinch of mica (just a little, unless you want it to color your lips slightly) to make it more attractive and to sparkle joy!
In my opinion, castor and coconut oils are the best for lip sticks, so I advise you not to replace them to avoid getting an ineffective product that gets absorbed too quickly.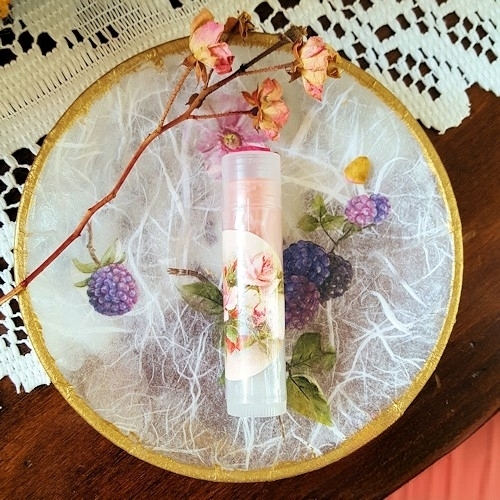 This DIY lip balm with cherry flavor can be a welcome gift for a little girl, a teenager or a greedy friend who loves gourmet perfumes.
I used "Cerise Exquise" natural aroma from Aroma Zone, which I really like, but you can create a set of scented lip balms using other natural aromas such as caramel, raspberry or mango.

The label you see in the photo comes from my printable set "Romantic Roses" while the cap decoration is an adhesive glitter.
DIY cherry lip balm ingredients
To make 4 natural handmade lip balm:
Cocoa butter: 5 g
Beeswax: 5 g
Castor oil: 4 g
Coconut oil: 5 g
Tocopherol (E vitamin): 1 drop
3 drops of Cerise Exquise cherry flavoring: 3 drops
A pinch of pink or red mica


Homemade cherry lip balm recipe
Melt the cocoa butter, beeswax and oils in a bain-marie.


Once the wax is completely melted, add a pinch of mica, the tocopherol and the cherry flavoring.


Transfer everything to a lip balm stick and let it harden.


To smooth the surface of the lip balm and make it uniform, level it with a knife.


Your DIY cherry lip balm is ready!