How to make cosmetics at home? Where to start? Which tools and ingredients do I need? Where can I buy handmade cosmetics tools and raw materials? I wrote this practical guide to walk you into the wonderful handmade cosmetics world, answering all the questions you might have.
Making cosmetics at home is exciting and lets you achieve great results while saving money and using quality natural ingredients.
You can self-produce everything: creams, lotion bars, shower gels, bath bombs, deodorants, zero waste solid cosmetics, shampoos, conditioners, skincare products, masks, lipsticks, makeup, lip balms and much more.

Let's see together what you need to start and where to find it.
To get inspired, find some of my DIY cosmetic recipes here. Click here to learn how to make a DIY skincare lotion or cream (oil in water emulsion).


Handmade cosmetics tools list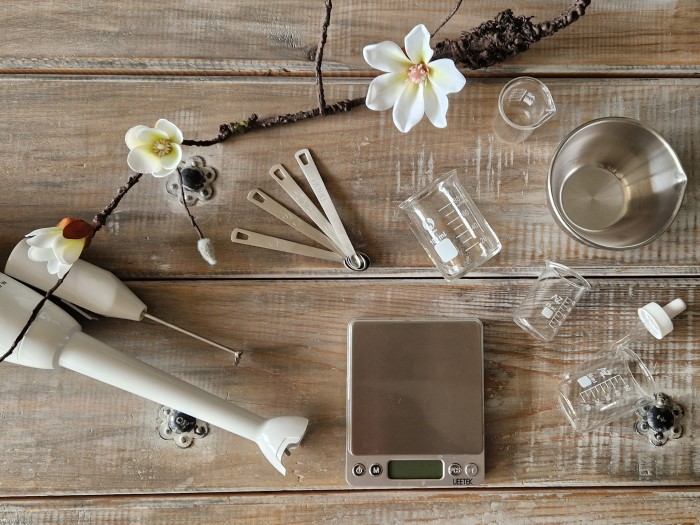 The tools for making DIY cosmetics are really simple and you'll probably find out that you already have many of them in your kitchen:
Pots, bowls and heat-resistant graduated glass beackers.
Bowls are enough for bath bombs, simple masks and solid shampoo/cleaners that don't need to be heated.
Glass beackers are especially needed when you have to melt ingredients in a water bath. Cosmetics formulas usually refer to 100g/100 ml products, but I suggest you buy different beacker formats (10 ml, 25 ml, 100 ml, 250 ml and 500 ml). You'll need smaller beackers if you are planning to make DIY makeup.
At the beginning, a simple glass is fine for face and body gels done with cold ingredients, but you should use a beacker if you need to heat the formula, otherwise it could break (and believe me, it happens!).


Silicone spatulas (better if mini) and spoons for stirring.


Immersion blender to emulsify creams. You can use the classic ones we all have in our kitchens (like Minipimer), but it works better for high quantities (more than 100 ml). For small quantities (from 50 to 100 ml) I recommend you the Bosch CleverMixx blender WITH the slim foot accessory. It has 2 different feet and the smaller one is perfect for handmade cosmetics because it has the perfect size and enough power to get perfect results and luscious ticker creams.
A small blender like this one is fine as well, but it's more for very small quantities and for the beginning. It works, but it's not powerful enough to obtain perfect emulsions and could start to significantly slow down when the cosmetic is becoming ticker.


Small sized funnels for pouring the handmade cosmetics into the containers.


Precision digital scale of at least 0.01 grams accuracy. This is ESSENTIAL. When dealing with cosmetic formulas, you'll work with very small amounts. Regular kitchen scales have a 1 g accuracy and are not suitable for handmade cosmetics, unless you'll only work with big quantities and very simple recipes.


PH test strips. The pH of our handmade cosmetics is very important to avoid damaging your skin. If you want to make cosmetics containing water, you'll need to test the PH with these strips.


Digital food thermometer. You'll need it to make sure that the water phase and the oil phase of creams have the same temperature before emulsifying. It is not essential at first or if you are not interested in creams making, but I highly recommend it.


Empty jars, flasks and containers to fill with your cosmetics. I suggest you opt for the glass ones, as you can recycle them forever and are safer. You can use plastic containers as well, re-using the ones of cosmetics you have at home or buying empty ones (teh cost less if you buy them in batches). Wash them carefully with dish soap and water and then wipe them with food grade alcohol using a cotton ball.
For lip balms and lipsticks you can find very nice empty containers.


Mini measuring spoons (tad, dash, pinch, smidgen and drop): a nice to have at the beginning and quite essential if you want to make DIY makeup (like eyeshadows) because you'll have to work with very small quantities of micas.


Protective glasses, latex gloves and masks. You'll need them if you work with high temperatures or you are using very fine powders that can could be irritating, like SLSA (used for some bath bombs and solid bars).
Natural homemade cosmetics ingredients



When you learn how to make cosmetics at home, you'll find out that the number of natural ingredients we can buy is huge.
Below you'll find a list of basic ingredients you should buy at the beginning. However, I suggest you to check the recipes that you want to follow and start from there. In some cases you can replace ingredients with others that are similar, even if you could get different results.
There are so many different cosmetic formulas that providing a starter list that could work for all is not easy and you might be more interested in some kinds of handmade cosmetics than in others.
Check my cosmetic ingredients chart and oils and butters chart for more info.

Essential handmade cosmetics ingredients:
Glycerin: moisturizing, humectant and used in many cosmetic formulas. Absolutely essential.


Beeswax: You'll need it to make lotion bars and lip balms. Either yellow or white (refined) is good. The organic yellow one has a wonderful honey scent that I personally love. The white one, on the other hand, is odorless and does not interfere with the fragrance.


Oils and butters. They are used in most cosmetic formulations.
To get good results, you must have at least one per density degree.
A good starter kit could be jojoba oil, coconut oil, rice bran oil, Caprylic capric triglyceride, karitè butter and cocoa butter. They are heat resistant, long lasting and easy to use.


Cosgard preservative (Benzyl Alcohol, Dehydroacetic Acid, Aqua): an easy to use eco-certified preservative that allows us to preserve our cosmetics longer. Really essential.

It has different names depending on the Country and brand

(like Isocida, Geogard...) Search for Benzyl Alcohol, Dehydroacetic Acid and make sure it contains both.


Essential oils: many of them have a very nice smell and can also be used for their properties. The lavender essential oil is perfect to start with. It is soothing, purifying and has a fantastic smell.


Baking soda and citric acid: to make bath bombs. Baking soda can be used for deodorants as well.


Xanthan gum: Essential for face and body gels and needed to stabilize emulsions. Really easy to use.


Rice or Corn starch: To fill bath bombs and to create dry shampoo. The corn starch is cheaper, but I prefer the rice starch especially for dry shampoo.


Emulsifiers: emulsifiers allow us to combine fats and water while preventing them from separating. Essentials if we want to make face or body creams. The easiest one to use is Olivem 1000. Xyliance is useful for solid shower lotion bars (I love it!).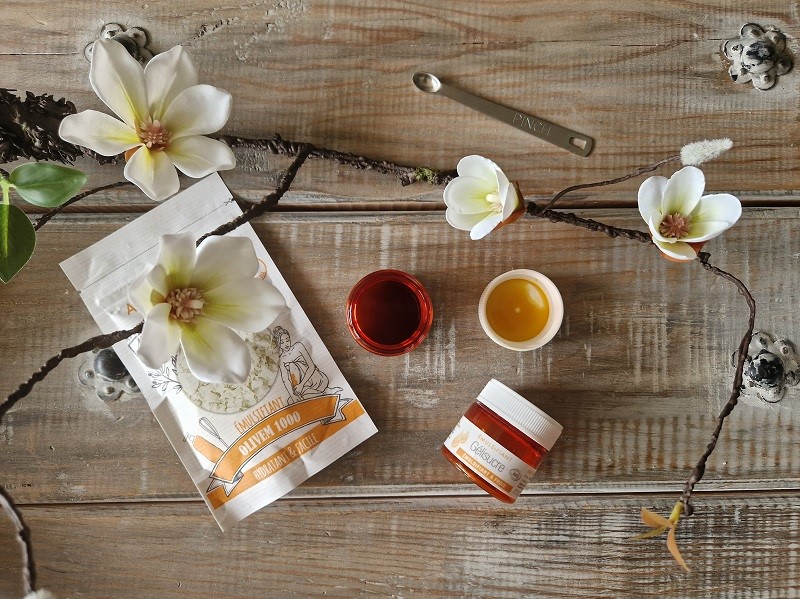 Cosmetic ingredients that are not essential but would be better to have from the start:
Vitamin E (Tocopherol): It prevents butters and oils used in our cosmetics from going rancid, prolonging the life of our fat based and anhydrous DIY products.


Cosmetic actives: there are so many active ingredients to use in DIY cosmetics that it's easy to get lost.
I suggest you to start with aloe vera powder, hyaluronic acid and bisabolol. There are also many plant extracts with effective properties. Choose them depending on what you need. Click here to learn how to make hyaluronic acid gel.


Natural cosmetic fragrances: they give a beautiful smell to your handmade cosmetics. Try to buy the ones that are really natural, like the ones from Aroma Zone.


Solubol: solubilizes essential oils, making them disperse evenly in water. It is not essential, but you will notice the difference especially for body and hair sprays.


Surfactants: to create shampoo, shower gels and similar.
For solid zero waste shampoos and shower bars you might need to buy Sodium Coco-Sulfate (SCS), Sodium Cocoyl Isethionate (SCI), SLSA (Sodium lauryl sulfoacetate) and Disodium lauryl sulfosuccinate. They are useful for foaming bath bombs and powders as well. You'll find them in many of my recipes.
For liquid products you can start with sodium lauroyl sarcosinate, Lauryl glucoside, Coco glucoside & Gliceryl oleate and a betaine. Decyl glucoside and Coco Glucoside are suitable for shampoos.


Lactic acid: this is used to lower the pH when needed in creams, lotions and gels.


Titanium dioxide and cosmetic micas: to color and essential for DIY makeup, like lipsticks and eyeshadows.


Hydrolates: not so essential for beginners, but they smell delicious and have several properties. They are the base for the lotion for compressed masks and are great in face and body gels. Start with rose hydrolate (rose water).


Where to buy tools and ingredients to make cosmetics at home
Now you know the basic about how to make cosmetics at home, but where you can buy tools and ingredients?
Some raw materials can be found in supermarkets (coconut oil, rice oil, sweet almond oil, baking soda...) while others can be found in herbalist shops (oils, butters, essential oils, aloe vera gel, beeswax...). However, you have to be careful because some ingredients might not be pure and could be more expensive.
I suggest you to buy tools and ingredients to make cosmetics at home in specialized DIY cosmetic stores. Amazon has a good variety of tools and ingredients as well.

Find below the list of shops I recommend:

Aroma-Zone
Gracefruit
Aromantic
Bramble Berry
New directions aromatics
Make it Lab
Zen Store
Dragon Spice
Jabonarium
Cosmetica Natural Casera Shop
Amazon