This anti aging serum recipe will let you create a wonderful facial serum that will gently caress your skin with a concentrate of botanical actives and precious oils.
- Velvety geranium essential oil, with its intense and soothing scent, is an anti-aging elixir and affects both microcirculation and mood, helping us to face the day in the best possible way.
- Rose hydrosol, which I am using in most of my cosmetics in place of water, taking advantage of its delicate floral scent, is soothing, anti-aging and invigorating.
- Argan, pomegranate and rosehip oils have an emollient effect. Help to delay aging and regenerate the skin. They are perfect for an anti aging serum recipe!
- My beloved squalane oil gives a silky touch and restores the lipid barrier.
- Fucocert, glycerin and hyaluronic acid give intense hydration throughout the day.

- Green tea is antioxidant, astringent, stimulates collagen production and improves circulation. The latter makes it my favorite active for my morning skincare routine because it reactivates microcirculation and helps deflate under-eye bags along with centella asiatica.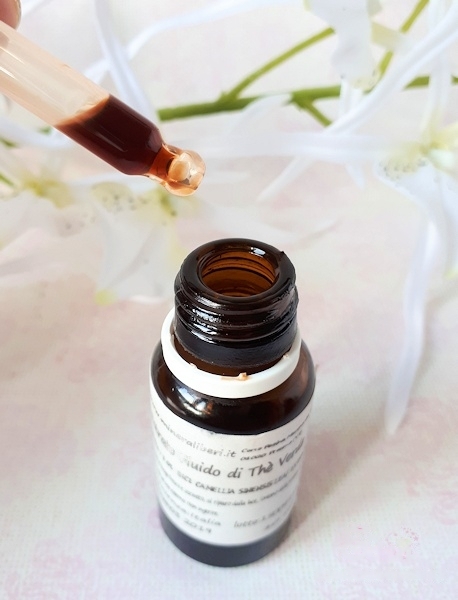 To create this anti aging serum recipe I used a cold emulsifier: liquid lysolecithin.

Store your face serum in an elegant glass bottle with a dropper to make the moment of application something beautiful that sparkles joy. This handmade serum should be applied to cleansed skin before applying your moisturizer to provide an extra concentrate of actives.
Although it is particularly suitable for the morning given the type of ingredients it contains, I recommend using it in the evening as well, preparing the skin for the next day overnight.


Ingredients of the anti aging serum recipe
These are the ingredients you'll need for your anti aging serum recipe:
Water phase
Rose hydrosol: 72.6 g
Glycerin: 2 g
Xanthan gum: 0.5 g
Oil phase
Liquid lysolecithin: 3 g
Vegetable squalene: 1 g
Argan oil: 1 g
Pomegranate oil: 1 g
Rosehip oil: 0.5 g
Tocopherol: 0.5 g
Cooling down phase
Fucocert: 5 g
Green tea fluid extract: 5 g
Tincture of centella asiatica: 5 g
Hyaluronic acid gel: 2 g
Benzyl Alcohol, Dehydroacetic Acid preservative: 0.6 g
Geranium essential oil: 9 drops
This anti aging serum recipe is for 100 g of product, but since you'll only use a few drops at a time, I recommend that you prepare only 10 g (divide quantities by 10) or 50 g (in this case divide quantities by 2).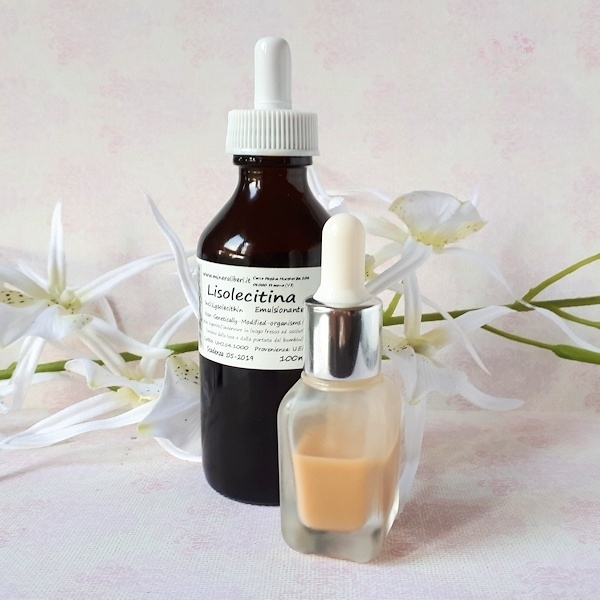 DIY anti aging face serum recipe
Put the glycerin and xanthan gum in a container. Stir and slowly add rose hydrosol without stopping stirring, obtaining a gel.


Pour oil phase ingredients into another container and whisk.


Combine the water and the oil phases. Use a handmade cosmetics blender.


Add the ingredients of the cooling down phase one by one, blending each time.


Measure the pH, which should be around 5.


Pour into a glass container with a dropper. Your DIY anti-aging serum recipe is ready!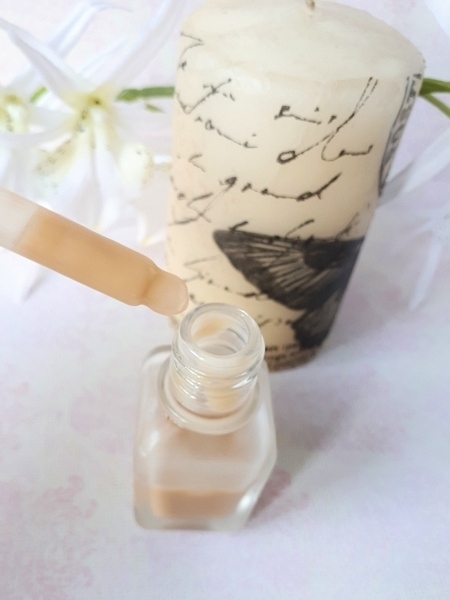 Notes and substitutions
Instead of rose hydrosol, you can use another hydrosol or water.


The oils can be substituted with similar ones (check the oils and butters chart for more info). Keep in mind that rosehip oil is potentially comedogenic. If you have particularly blemish-prone skin replace it with another type of oil or increase the dose of pomegranate oil.


Fluid extracts can be substituted with others having similar properties or you can use only one of the two used in this anti aging serum recipe. In this case, do not raise the doses above 5 percent but replace the missing one with rose hydrolate. Fluid extract usually have 5% as maximum dosage (always check the info sheet of the product to double check it). Check the cosmetics ingredients chart for more info.


Instead of hyaluronic acid gel and Fucocert you can use other actives, such as aloe vera gel and Sodium PCA. Follow the doses recommended by their product sheet.


Geranium essential oil can be substituted with your favorite essential oil, although I always recommend that you check the properties first so that you make the most appropriate choice for this type of cosmetic.


Click here for a easier oil serum recipe.