This sheet mask liquid recipe is really effective and can be used either alone or enriched with different cosmetic actives. You should use it together with a compressed sheet mask how explained in my sheet masks guide.
It is a super moisturizing concentrate based on hyaluronic acid and enriched with rose hydrosol (soothing) and glycerin (moisturizing). It leaves the skin glowing, deeply hydrated and soft.
I have been working quite a lot with compressed sheet masks, formulating and experimenting many different sheet mask liquid recipes. The presence of hyaluronic acid in masks of this type is very noticeable and gives amazing results.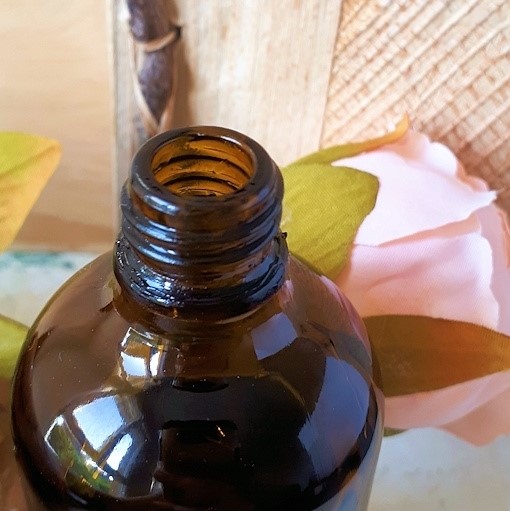 I think that sheet masks are ideal to benefit hyaluronic acid properties because enhance the effects of the actives with an occlusive action that "saturates" the skin. For a practical demonstration, put the same lotion on your face without using a sheet mask and do the same the following day with sheet mask: you'll notice the difference!
If you simply spread it on your skin, it makes the skin soft and moisturized, but it will absorb quickly. When applied with a sheet mask, it leaves the skin soft, deeply moisturized and radiant for a long time.

DIY sheet masks liquids can be freshly prepared in small quantities every time you need them, but if you want to save time you can prepare a good quantity of ready to use liquid solution adding a natural cosmetics preservative. This is what we'll make with this sheet mask liquid recipe.


Sheet mask liquid recipe ingredients
Rose hydrosol: 90.9 g
Glycerin: 8 g
Hyaluronic acid powder: 0.5 g*
*If possible, use half low molecular weight hyaluronic acid and half high molecular weight. Find more info about the difference here.


How to make the sheet mask liquid recipe with hyaluronic acid
Put the rose hydrosol and the glycerin in a container.
Add the powdered hyaluronic acid and let it hydrate for a few hours.
Add the preservative and mix.
Store in a 100 ml flask.

How to use the sheet mask liquid with a compressed sheet mask
Pour 12-15 ml of this sheet mask liquid solution into a small container and add the compressed sheet mask.


Let it hydrate for a few seconds, open it and apply to your face for 10 minutes.


Remove the mask sheet without rinsing and immediately apply 4 drops of vegetable oil or oil serum (here you can find a luscious handmade oil essence recipe) and your usual moisturizer. Your skin will be sparkling joy!


How to customize this sheet mask liquid
This DIY sheet mask liquid can be used either alone or as a base for custom mask liquids.
If you want to customize it, pour 15 ml into a container and add one or more ingredients of your choice. Here are some examples:
3 to 9 drops of fluid plant extracts (chamomile, green tea, calendula, mallow...)
1 drop of essential oil
1 ml of honey (in 14 ml of base liquid)


Sheet mask liquid ingredients substitutions and notes
When customizing this lotion, do not overdo the doses of the actives because you may get a sticky mask or cause irritation. I have done several experiments and I can confirm that for some cosmetic actives the classic doses used in regular cosmetics are too high in this type of formulation. In fact, the occlusive action of tissue masks potentiates the positive and negative effects of the various ingredients. Stick to the doses I have indicated above.

Don't forget to apply a vegetable oil (or a oil essence) and a moisturizer after the mask treatment. This is a fundamental step that allows you to "seal" the positive effects of the mask. More info here.


If you miss rose hydrosol, you can replace it with plain water or with another floral hydrosol. If you use a hydrosol, you'll take advantage of its beneficial effects and perfume.


Do not apply the handmade sheet mask for more than 10-15 minutes because as the product dries, it will tend to remove skin hydration.


When you make a sheet mask liquid, please make sure that the pH is between 5 and 6.5.