This DIY solid shower butter turns into a creamy milk under the shower. Rich in cocoa butter and honey, leaves the skin soft and moisturized without any greasy feeling.
The recipe is quite different from the ones you could find on the web for solid butter bars because it contains honey and an emulsifier that makes it perfect for shower use.
Liquid honey, known for its moisturizing properties, can be used in emulsions, cold creams and whipped butters, but it is very difficult to put it into solid butters without separating. Loving this ingredient, I often wondered about how to solve this problem without finding a satisfactory solution. When I started working on solid shower butters and especially those containing powders, I remembered the existence of honey powder. I experimented a bit till finding the perfect solid honey body butter formula.
Keep in mind that honey powder makes sense in this formula because it is a emulsified body butter to be used in the shower, which allows the honey powder to rehydrate once in contact with water, regaining its function and characteristics. If we used it in a classic solid butter without emulsifier, the honey powder would be useless because it could not rehydrate.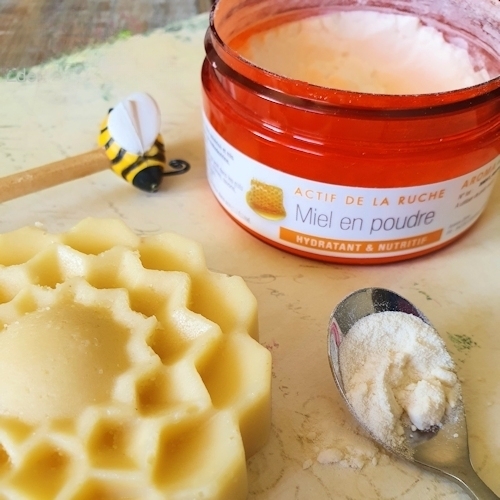 As I explained when I first introduced a solid shower butter, the emulsifier is the key ingredient, as it transforms the butter into a cream when in contact with water.
Cocoa butter is the base ingredient thanks to its hardness and its exceptional spreadability. I also used shea butter, which is excellent for dry skin, and coconut oil.
The carnauba wax is needed to get the right hardness. It keeps the shape and prevents the butter from melting too quickly when it comes in contact with hot water.
Solid shower butter ingredients
Cocoa butter: 64.5 g
Xyliance (emulsifying wax number 2): 8 g
Coconut oil: 3.2 g
Carnauba wax: 2.3 g
Shea butter: 14.5 g
Honey powder: 5 g
Tocopherol: 0.5 g
Caramel AZ natural fragrance: 2 g


How to make a solid body butter for shower use
Melt the cocoa butter, Xyliance emulsifier, coconut oil and carnauba wax in a double boiler.


Add the shea butter and stir until it melts completely.


Withdraw from the water bath and add the rest of the ingredients (tocopherol, fragrance, and honey powder), mixing thoroughly and making sure that no honey clumps remain.


Pour into one or more silicone molds and immediately place in the freezer for 30-60 minutes. This step is very important and should be done quickly to prevent the honey powder from settling to the bottom.


Unmold the solid shower butter very carefully and let it rest for at least 2 days until it takes on its final consistency. If you handle it before the 2 days, it might be too soft and you could ruin its shape.


How should I use this solid shower butter with honey?
Spread it on your wet skin while you are still in the shower, just before turning off the water. It should not be rinsed off, but it is important that the shower water is still touching your body when you spread it (not too much, just a little bit). Store the DIY shower body butter in a cool, dry place.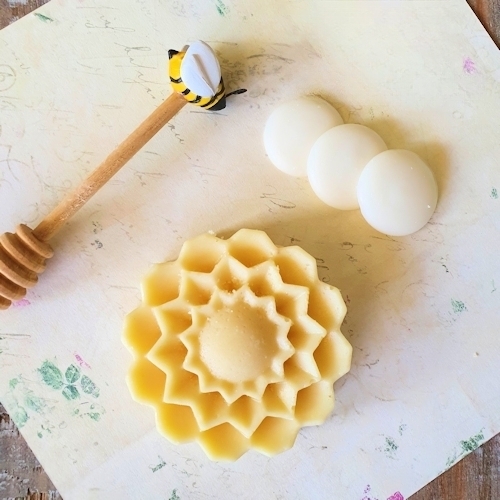 Substitutions
In my opinion, cocoa butter is irreplaceable in solid body butters because it gives optimal hardness and spreadability. Shea butter and coconut oil, on the other hand, can be substituted without any problem with other oils and butters.


You can try replacing carnauba wax with candelilla. I do not recommend beeswax because it's not suitable in solid shower butters to be used when in contact with water. I got bad results with it.


If you don't have Xyliance (also known as emulsifying wax number 2), you can use Olivem 1000.


Tocopherol delays butter and oils rancidity but is not essential. If you do not have it, replace it with the same amount of oil.


The fragrance can be substituted with whatever you prefer, but make sure it is fat-soluble one and to not exceed its maximum recommended dosage. You can also omit it, replacing it with the same amount of oil.


As I explained earlier, honey powder is NOT substitutable for liquid honey in this case. This shower body butter recipe needs honey powder. You can omit it, but it won't be a honey solid butter bar anymore.