This simple fragrance oil recipe will let you create your own fragrance oil to use in your handmade cosmetics.
It contains a mix of relaxing essential oils and is perfect for aiding sleep and relaxing your mind.
It should NOT be used alone, as it's a concentration of essential oil. Dilute it in your handmade cosmetics to add a natural fragrance or pour a few drops into the bath water to enjoy a moment of complete relaxation (you'll find more info about how to use it below).
Perfect for bath bombs, pillow sleeping sprays, goodnight body oils and other DIY cosmetics to use before going to sleep, sparkling joy to your dreams!
Lavender essential oil, with its recognized relaxing properties, is accompanied by the sweet, vanilla notes of benzoin and the floral, stress-relieving notes of geranium. Finally, sweet orange and bergamot harmonize everything with a citrusy touch.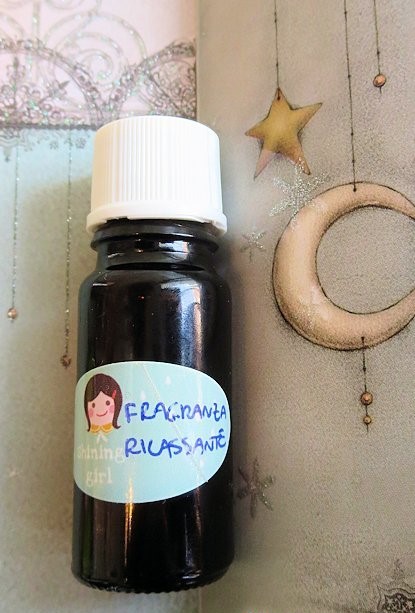 Sleeping fragrance oil recipe
3 g lavender essential oil
2.4 g of sweet orange essential oil
2.4 g bergamot essential oil
1.2 g benzoin oleoresin
0.5 g of geranium essential oil
0.5 g of food grade alcohol
If you do not have all the ingredients listed above, see the substitutions chapter below.


How to make a relaxing oil fragrance
Put the benzoin oleoresin in a container, pour in the food grade alcohol and stir. Alcohol helps the oleoresin to mix with the essential oils.


Finally, pour in the essential oils and stir.


Store your oil fragrance in a 10 ml container and let it sit for at least a week to give the fragrance enough time to mature.

How to use the Sweet Dreams relaxing fragrance
You can use this handmade oil fragrance like any pre-made cosmetic fragrance, diluting it in your handmade cosmetics or your water bath. You should follow the same guidelines used for essential oils (check the essential oils dosage chart for more info).
Here are some usage examples:
Handmade body creams and oils: 15 - 30 drops (0.5 – 1 ml) for every 100 g of cosmetic base (carrier il, body lotion…). You can go up to a maximum of 60 drops (around 2 ml) but it would be better to stick to smaller dosages especially if the scent obtained is sufficiently intense. Also, take into account that the scent will be even stronger the next day you add it to your products.


Relaxing baths: 5-8 drops in water bath, preferably diluted in a tablespoon of honey.


Handmade body perfume: mix 1.5 g of this oil fragrance with 1 g of glycerin and 7.5 g of food grade alcohol. Finally, pour it it into a 10 ml spray bottle.

Substitutions
The essential oils in the recipe can be substituted. However,keep in mind that you will get a similar but not identical fragrance.
If you do not have bergamot or sweet orange essential oil, you can use just one of the two or lemon essential oil, even if it's a bit different.


Benzoin oleoresin can be replaced with vanilla or with Peru balsam, that is quite similar.


Geranium essential oil can be omitted.