Tea bag tag decorations are small sugar paste tags that replace the original label, making your tea bags sparkle joy every time you use them.

In short, we are talking about tea bag tags made with sugar paste. You can design a different one depending on the tea you are using, or reproduce the same decoration you have in your favorite tea cups. They look wonderful and will make your afternoon tea table different and creative. You and your guests will love them!

I had this idea 10 years ago, when I used to have frequent and pleasant tea breaks with a friend, and I was dedicating a lot of time to cake design. I always have my mind busy with creative ideas and this one was just perfect for it.


How to make a sugar paste tea bag tag
First, take a tea bag and remove the original paper label.


Roll out some sugar paste. Cut out two small circles and moisten one of them. Place the end of the teabag string on it, curving it a little bit. Put the other rounded piece over it and press gently to close.





Decorate the circle by pricking the edges with a toothpick.


Cut out a butterfly with a cake design cutter and place it on the base, keeping the edges slightly raised.


Decorate with a small sugar heart bead.


Once the sugar paste hardens, pick up some pink food colorant powder with a stiff dry flat-tipped brush. Put the color on the edges and then in the center of the butterfly by passing the brush several times to intensify and define the shade. You don't need to pick up more color, just insist several times with the brush to get a stronger concentration in one spot and a more blended tone on the sides. The key is to pick up the right amount of color, which should be neither scarce nor abundant.



Your sugar paste tea bag tags are ready!

In this tutorial I gave you some guidelines, but you can use your imagination and create anything you want.
In the pictures you'll see two more versions: a butterfly without a round base and a small flower. In the first case I superimposed two identical butterfly-shaped molds, and in the second one I used a flower-shaped mold following the same procedure as described before.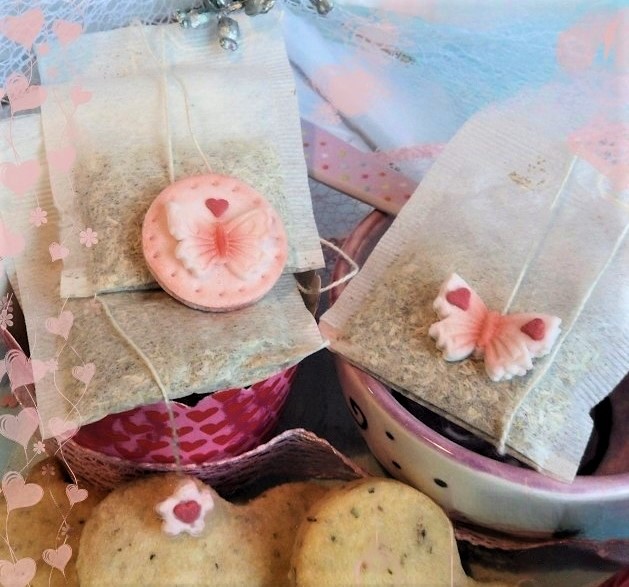 Sugar paste tea bag tags: some notes
If you want, you can remove the sugar paste decoration and put it in your cup of tea. It won't dissolve so easily like a sugar cube and is not really the best solution to sweeten your tea, but it will look very romantic and decorative.

It's very important to curve a bit the end of tea bag string when you place it over the sugar paste base, otherwise it could get off (unless you are planning to remove and splash it into the tea cup).


Another thing to take into consideration is the weight of the tea bijoux: if you make a decoration that is too thick and heavy, it will not stay firmly attached to the string. Therefore, prefer small and light decorations.


Check my creative cooking recipes for more inspiring ideas!